By 
'We have not fundamentally changed anything': Advocates worry borrowers with defaulted student loans will be thrown back into 'punitive' system next year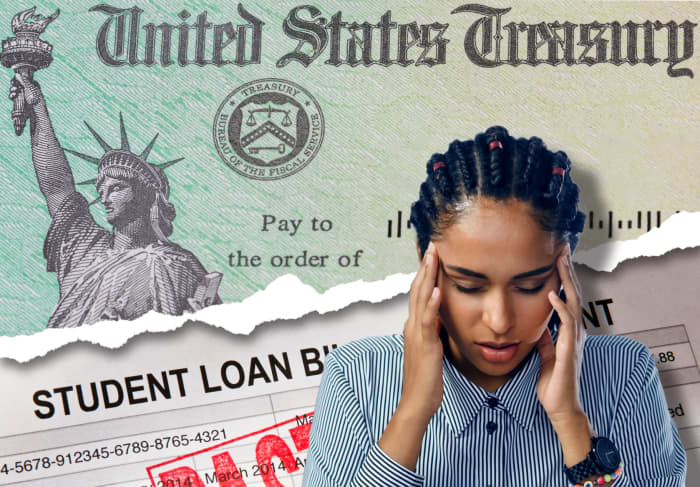 Length16 minutes
In the months before the pandemic pause on student-loans payments, interest and collections, Jennifer Booth regularly received unpleasant phone calls from her student-loan debt collector that fueled anxiety and doubt. 
They'd ask her questions like, "Why would you go to school at all?" Booth recalled in an interview. 
Outside of those phone calls, Booth felt she could answer that question. She sees the time she spent in college as connected to teaching, a job that filled her with purpose and fulfillment.  
"I felt so lucky that every day I woke up, I looked forward to going to work," the 74-year-old said recently. "I actually can't stay out of the classroom even now." She's technically retired, but Booth still goes into school to teach third graders a couple of times a week. 
Still, in some ways, those calls from the debt collector questioning why she went to school  "were reflecting my own feelings," Booth said. That's because her student loans became so unmanageable that at one point they threatened her livelihood. 
The $10,750 she borrowed in 2007 at the age of 57 to study for an undergraduate teaching degree at a public college ballooned to $27,924 by 2020. At the same time, she was contending with $4,203 in debt she took on to help one of her daughters pay for college. 
Advertisement
Before the government paused payments, interest and collections on federal student loans as part of a pandemic relief measure, the government was garnishing Booth's Social Security check to repay her debt. Booth was experiencing one of the harshest consequences of defaulting on a student loan even though she'd once taken steps to bring her loan current, according to court documents.  
Booth couldn't spare the bite out of her Social Security benefits. She is raising her 15-year-old grandson and relies heavily on government assistance and Social Security to keep them both fed and sheltered. 
"Honestly I was in quite a panic that I was going to end up homeless," Booth said of first learning the government was going to seize part of her Social Security check. "When you're just kind of living from paycheck to paycheck and they just start taking out money and stuff, you're in big trouble." 
Now, Booth is preparing for student-loan payments to resume again. Over the course of the more than three-year pause on student-loan payments, interest and collections, Biden administration officials have made sweeping changes to the student-loan system. They've made it easier to access forgiveness under the law for millions of borrowers, launched an affordable repayment plan and of course, proposed widespread debt cancellation. 
But advocates and attorneys who work with borrowers who have defaulted on their debt worry that in fall 2024 — after a year-long grace period following the end of the payment pause — millions of borrowers will be thrown into the debt-collection system Booth faced. That's even though Biden administration officials have criticized the government's approach to defaulted student loan borrowers and promised them a fresh start. 
"We have not fundamentally changed anything for defaulted borrowers," said Persis Yu, managing counsel and deputy executive director at the Student Borrower Protection Center, an advocacy group. 
1 million defaults a year
In theory, federal student loan borrowers should almost never default. The loan program offers myriad options for borrowers to make affordable payments — even on a low income — and still stay current on their debt. In reality, about 1 million borrowers were defaulting each year before the pandemic pause. About 7.1 million borrowers had loans in default as of June 2023, out of roughly 43 million student loan borrowers. 
These borrowers tend to have smaller debt loads, which is often a sign that a borrower left school early or earned a shorter-term degree that may not provide value in the labor market. As such, President Joe Biden's plan to cancel up to $20,000 in student debt for a wide swath of borrowers, which the Supreme Court knocked down in June, would have had a disproportionate impact on this group of borrowers. 
About 4.6 million borrowers who were delinquent or in default before the payment pause had a balance of $10,000 or less, according to the Department of Education; nearly 7.2 million borrowers who were delinquent or in default in 2019 had a balance of $20,000 or less.
For years, advocates, regulators and some lawmakers have said that student-loan servicers, the companies the government hires to manage the federal student loan portfolio, don't provide borrowers with sufficient information to access repayment plans that would help them avoid default. 
"At this point default exists because our system is so unnavigable by a lot of folks, especially low-income folks," Yu said. 
Once borrowers default on their debt, the government also offers options to cure the default. But the government and the private debt collectors, that, until recently, the feds hired to manage defaulted student loans, aren't always forthcoming about borrowers' options, lawsuits allege. Now, the agency relies on one company, Maximus, to service defaulted student loans. 
In 2015, after her student loans went into default, Booth took the steps necessary to become current on her loan, according to court documents. After she completed that process, Booth was eligible to enroll in a plan that would have allowed her to repay her debt as a percentage of her income. But her debt collector didn't inform her about that option and so she fell into default once again because her loan payments remained unaffordable, according to court documents. 
Before the pandemic freeze, Booth would regularly get multiple calls a day from a debt collector trying to get her to make student loan payments. But in those phone calls, representatives never explained to her that once she cured her default again, she would be eligible for payments based on her income which could be as low as $0 a month. 
"It's definitely beyond harassment, it was relentless," she said of the debt collector's phone calls. "I kept telling them 'I'd love to send you money, but I don't have it to give you.' It didn't make any difference." 
In addition to the harsh words, borrowers with defaulted student loans face harsh consequences, which are in some cases more extreme than those that borrowers in default on other types of debt experience. The government has extraordinary collection powers, including the ability to garnish Social Security checks, tax refunds and wages without a court order, to repay a federal student loan. 
Booth is one of the named plaintiffs in a lawsuit against the government alleging that its approach to collecting on defaulted student debt by garnishing Social Security benefits is illegal. Generally, creditors aren't allowed to access Social Security benefits because it's a central anti-poverty program. Attorneys for the plaintiffs have argued in court documents that the exception to this rule that allows the government to seize Social Security benefits to repay student loans violates the law. 
Consequences of defaulting on a federal student loan are particularly harsh
Over the past few decades, lawmakers have added provisions that make the consequences of struggling to pay on a federal student loan more punitive than other types of consumer debt. They made it very difficult for borrowers to discharge the debt in bankruptcy in the 1970s and then later required the government to take extreme measures to recoup the debt. These steps were fueled in part by concerns that borrowers would walk away from the debt if it was easy to do so.  
"We have had this misconception about default that default is the result of a lack of personal responsibility of borrowers," Yu said. "We have treated borrowers as if failing to make their student-loan payments is some kind of moral failing for which people deserve incredibly harsh consequences, harsher than just about any other type of credit. It is punishment, it is punitive." 
What's become more clear over the past several years, including to government officials, is that when borrowers default on their student debt it's typically not because they're looking for ways to escape the loan. Instead, it's often the case that they were scammed by their schools and didn't receive value from their education. 
In addition, they likely struggle to access, or don't know about, programs that allow borrowers to pay off the debt as a percentage of their income — for as little as $0 a month — and stay current. 
In part as an acknowledgment of the challenges borrowers face avoiding and getting out of default, the Biden administration announced last year that it would bring these borrowers current as part of its pandemic-era student-loan initiatives. Through the program, called Fresh Start, borrowers have one year after the resumption of student-loan payments to take steps that will keep them out of default. 
Nearly 2 million borrowers had a default wiped off their credit report through Fresh Start and received a median credit score bump of about 54 points, according to an analysis published in July by the Consumer Financial Protection Bureau. These borrowers tend to live in high poverty areas and had limited access to credit.
The benefits of the program borrowers are receiving now happen automatically, but it's unclear how many will take advantage of the ability to keep their student loans current once they have to raise their hand to do so. James Kvaal, the undersecretary of education, told reporters recently that the agency hasn't released numbers on how many defaulted borrowers have taken steps to enroll in an affordable repayment plan as part of the Fresh Start initiative. 
"The student-loan system doesn't have a great reputation for getting borrowers the information that they need," a CFPB official said. "Even when you have a borrower with some awareness, when there's an opt-in provision that can sometimes unfortunately be a place where bad information gets introduced." 
Johnson M. Tyler, senior consumer and student loan attorney at Brooklyn Legal Services, is skeptical that borrowers will take advantage of the option to enroll in an affordable repayment plan and stay out of default. Tyler regularly works with borrowers trying to get out of default and has even sued over how complicated the process can be. 
Compounding these challenges is the reality that Congress flat-funded the Office of Federal Student Aid, which oversees the student-loan program, limiting the agency's resources to do outreach on this initiative. 
"It's a huge disappointment," Tyler said of Fresh Start. "This is no different from what is already in existence, call up and lay yourself before the debt collector and say 'how can I start a payment plan to get out of default?'" 
Borrowers have at least one year from the end of the payment pause to make arrangements that would keep them out of default, a Department of Education spokesperson wrote in an email. They can do this by visiting this website, contacting their loan holder by phone or in writing or calling the Department's Default Resolution Group, which aims to help borrowers manage defaulted loans, the spokesperson wrote.  
Once borrowers request a new payment arrangement, they'll be eligible for plans that allow them to pay off their debt as a percentage of their income, including a new, more generous plan, called SAVE, launched by the Biden administration this year, the spokesperson wrote. 
The agency is also working to ensure defaulted borrowers are aware of these options, the spokesperson wrote. "The Department has already been in touch multiple times with eligible borrowers about Fresh Start through email," they wrote. In addition, the agency is partnering with several civil rights, student loan borrower advocacy and other organizations to help publicize Fresh Start. 
"In addition to helping bring these borrowers automatically back into good standing, Fresh Start aims to increase the long-term repayment success of borrowers with loans in default," the spokesperson wrote. 
Consequences of default are counterproductive, attorneys say
For borrowers in default, the consequences are often not only devastating, but also counterproductive. Borrowers in default regularly have funds seized from their Earned Income Tax Credit, a credit working parents receive that's hailed by members of both parties as a successful anti-poverty initiative. 
"It has always just struck me as counterintuitive for the Department of Education and the government to be engaging in debt-collection tactics when the whole overarching purpose of the student-loan system is to bring those very same people out of poverty," said Josh Rovenger, a supervising attorney at the Legal Aid Society of Cleveland. "Why the government is seizing an Earned Income Tax Credit to pay back a loan that was meant to provide someone with education to allow them to get into the middle class has always struck me as entirely illogical." 
These same "punitive" tactics will resume after the Fresh Start grace period ends, unless officials move to reform the student debt collection system, Rovenger said. And there are steps officials can take, advocates say. 
They can start by allowing borrowers in default to benefit from recent initiatives that will make it easier for borrowers to access student loan relief. The Biden administration is in the midst of adjusting borrowers' accounts so that more months count towards the time necessary to have their debt forgiven under income-driven repayment. 
These plans allow borrowers to pay off their debt as a percentage of their income and have the remainder canceled after 20 or 25 years or payments. The debt cancellation has been notoriously difficult to access even for borrowers who have been paying their student loans for decades, in part because student loan servicers steered borrowers towards payment arrangements that didn't count towards the 20 or 25 years. 
The account adjustment is meant to remedy those issues, but the Department of Education isn't crediting time spent in default as part of the program. Counting time spent in default is not a long-term solution, Yu said, "but it's certainly the real remedy that defaulted borrowers need." 
Yu and other advocates have proposed longer-term reforms to the student debt collection system. For example, the government won't seize tax refunds and Social Security checks in cases of extreme hardship and some have argued that the Department of Education could expand the definition of extreme hardship to include any borrower receiving an Earned Income Tax Credit or any elderly borrower collecting Social Security. 
The government could also limit what it collects through seizing Social Security benefits, tax refunds and wages to the amount that a borrower would pay under an income-driven plan, Yu said. For many defaulted borrowers, their payments in those plans could be at or near $0 a month.  
Senator Elizabeth Warren, a Massachusetts Democrat, wrote to the Department of Education in July pushing the agency to revamp the student debt collection system. She suggested the agency develop a plan to discharge the debts of borrowers who have spent long periods in default and exhaust all other options — including determining whether a borrower is eligible to have their debt discharged — before sending the debt to collections, among other proposals. 
"I am concerned that the end of the federal payment pause this year risks exposing borrowers who struggle to make their payments to wage garnishments, tax refund offsets, and other forms of collections which can exacerbate financial distress," Warren wrote. 
Despite the pressure, for now, borrowers with defaulted student loans will be at risk of having their Social Security checks, tax refunds and wages taken in the fall of 2024 if they don't take action. 
For her part, Booth is slated to resume payments in October through an income-driven plan, thanks to help from her lawyer. Under the plan, she'll be able to stay current on her debt with payments as low as $0 a month. Nonetheless, her experience with student debt has made her nervous about the resumption of student-loan bills. 
Booth is recently in remission from breast cancer, and as she puts it, "I'm trying to put my life back together. The whole student loan is just on the back burner and scary." 
Despite facing the harshest consequences of the student-loan system, Booth encouraged her children and grandchildren to go to college. Still, she's pushed them towards finding scholarships and other ways to have some of the cost covered. Her experience has left her feeling that when it comes to higher education and student debt some people have access to hidden knowledge that can help them avoid the pitfalls she faced while others are trapped. 
"If you have to borrow the money then you probably don't have it, which I definitely didn't," she said. "The poor are kind of left to stay poor and the wealthy get all of these advantages. They understand the system and they know how to work it."
PLEASE VISIT OUT STUDENT LOAN PAGE FOR MORE INFORMATION